Inside ADVANCE
No matter what your task is, ADVANCE has features to make even your complex analyses swift and clear
Where research and quality control meet
In QC, you have to rely on a software's ease of use as well as standardization and repeatability. In R&D, you need flexibility to play around with measurement parameters and to combine methods. To improve interfacial analysis in both areas, the manifold functions of ADVANCE can be used as strictly or freely as you require.
Experience the general features of ADVANCE and its different fields of use in drop shape and foam analysis as well as tensiometry.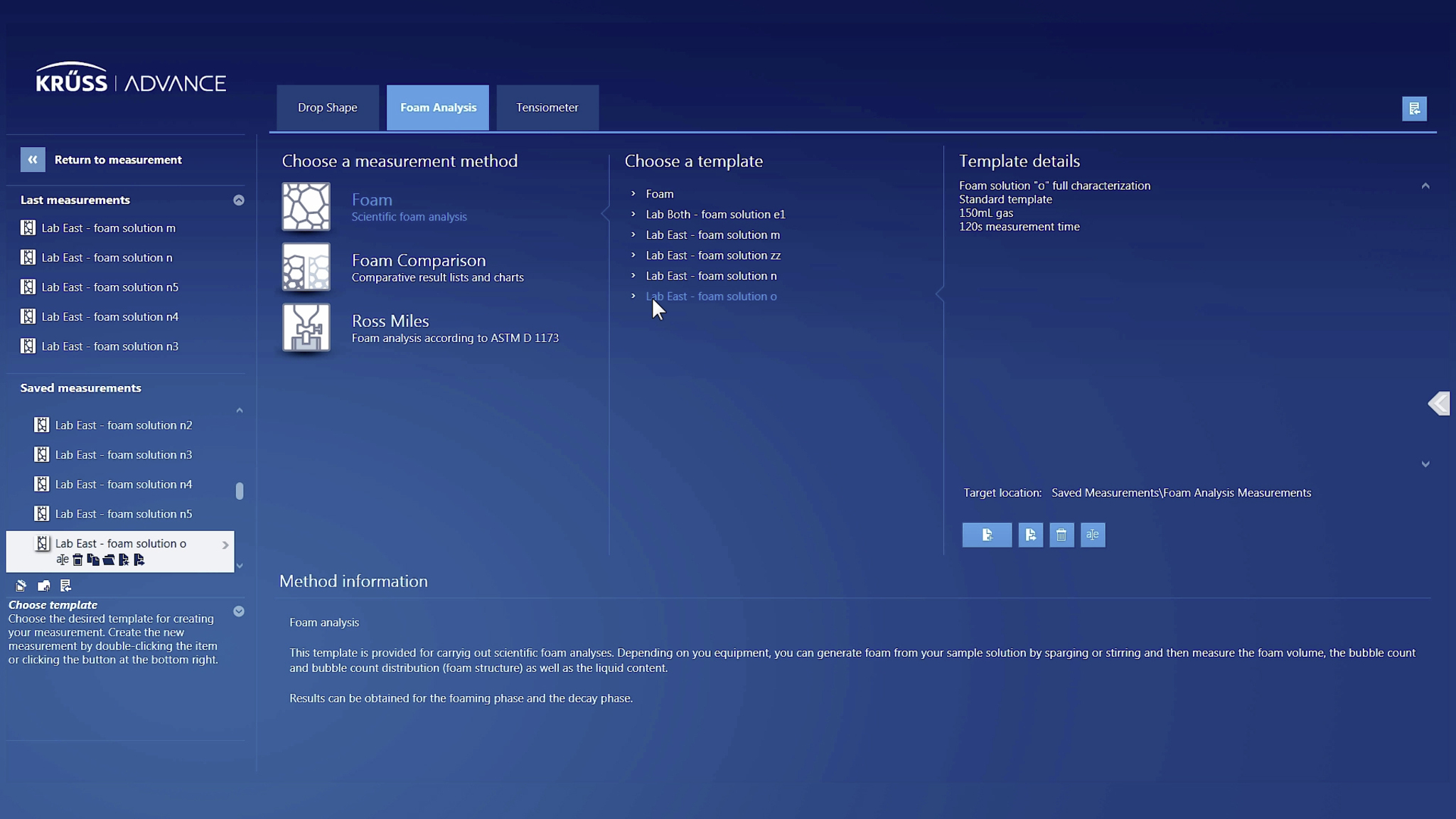 Templates speed up preparation
ADVANCE uses measurement templates as a quick way to a new measurement with all parameters and automation functions. Creating templates from any measurement is just as easy as making them available for others utilizing import and export functions. By consistently applying templates you can solve the same tasks always in exactly the same way and thus absolutely rely on comparable results.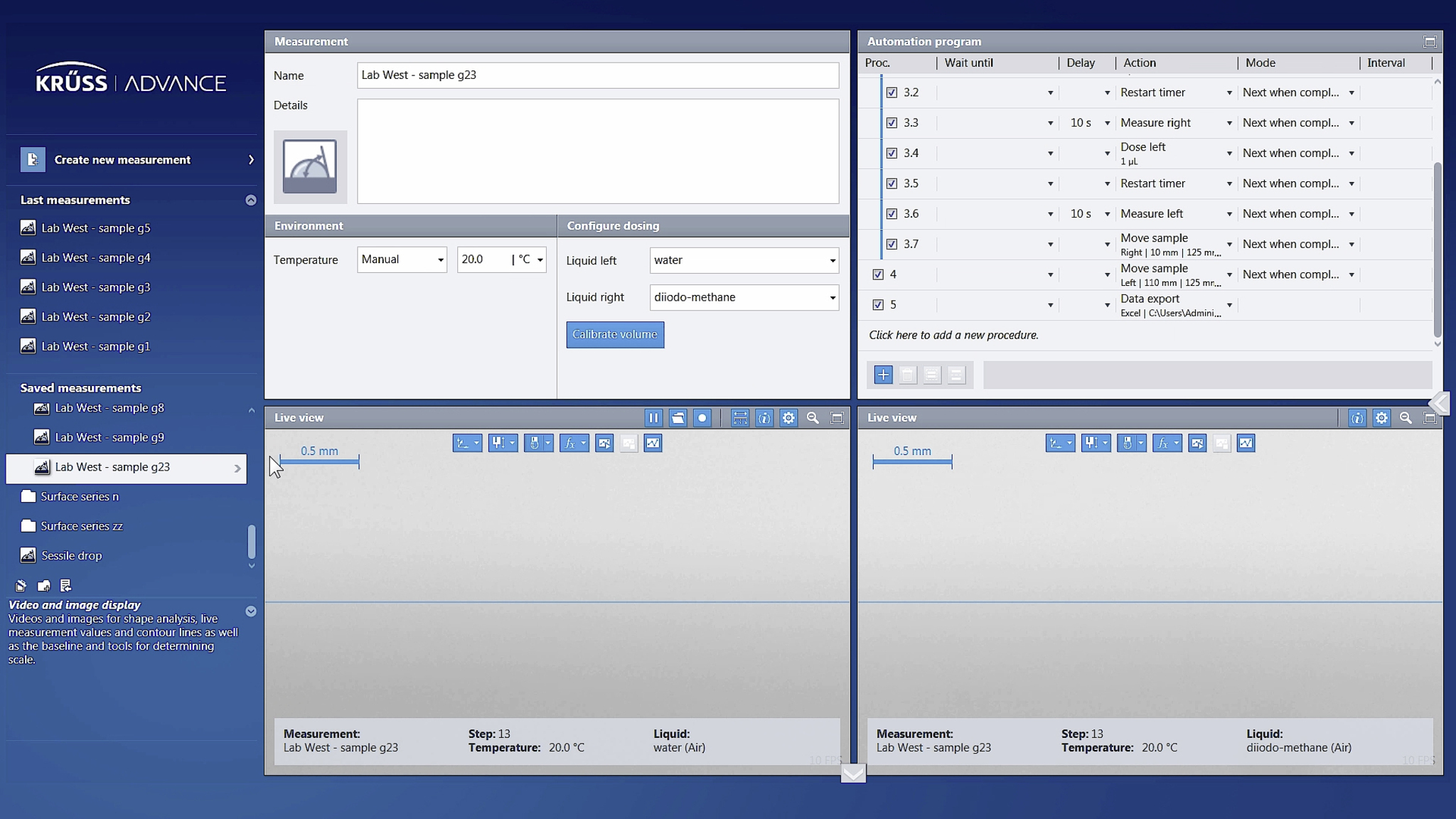 Automation programming made intuitive
In flexible automation programs, ADVANCE combines software control of your instrument with data processing functions. The actions carried out in the automation procedure can be triggered by events and linked to a waiting time. Moreover, procedures offer numerous options for repetition or continuation as well as grouping them in order to carry out loops. All this leads to easily created programs for solving even the most complex tasks, including fully automated sample analysis with subsequent data export.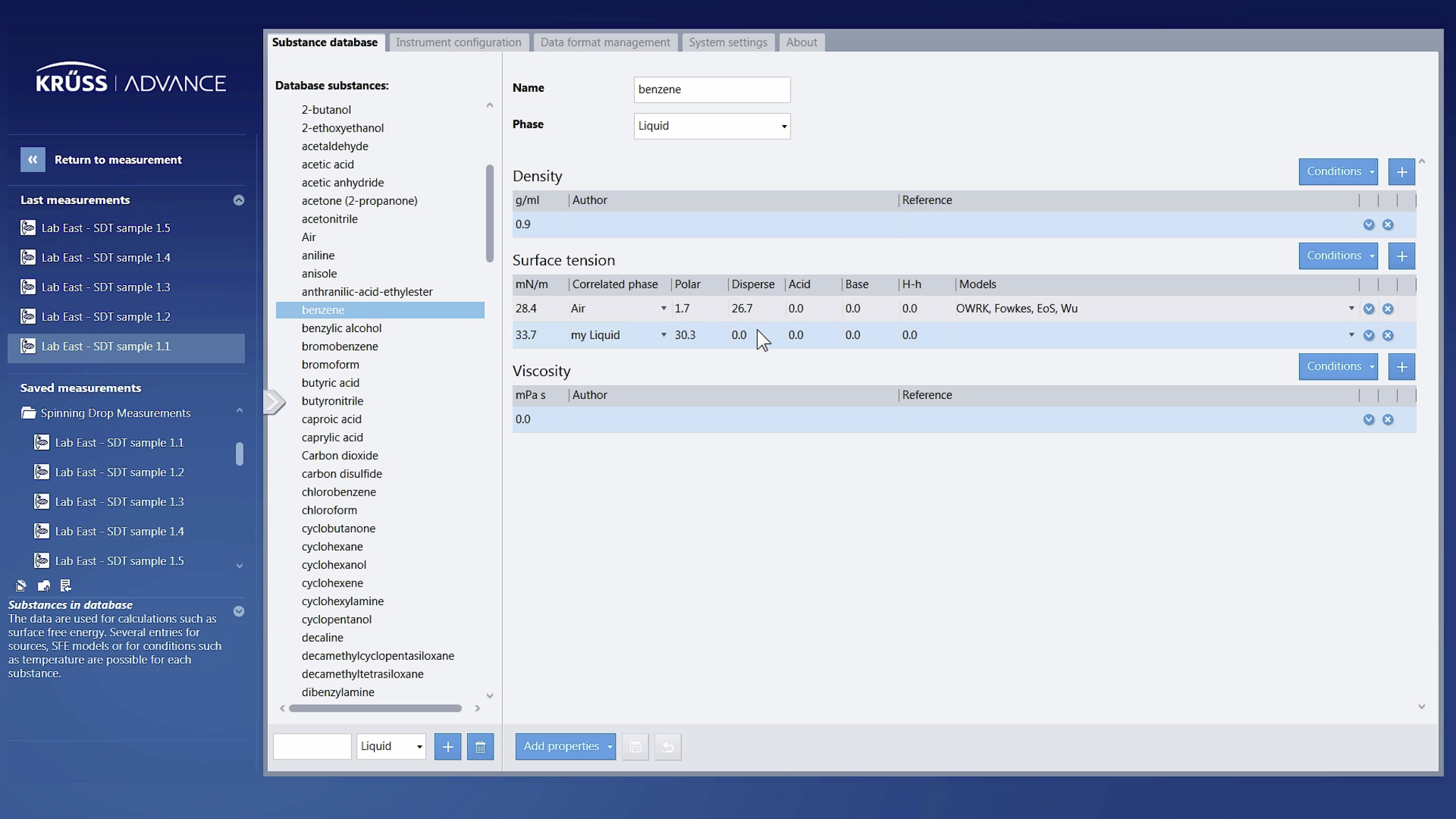 Evaluation based on scientific substance data
ADVANCE uses an extensive substance database to scientifically evaluate the precise measurement results. The database contains the most relevant substances used in surface science and has their physical data such as surface tension or density as compiled from scientific literature readily available. Furthermore, the database can easily be extended with complementary content for included substances as well as completely new entries from the literature or your own measurements.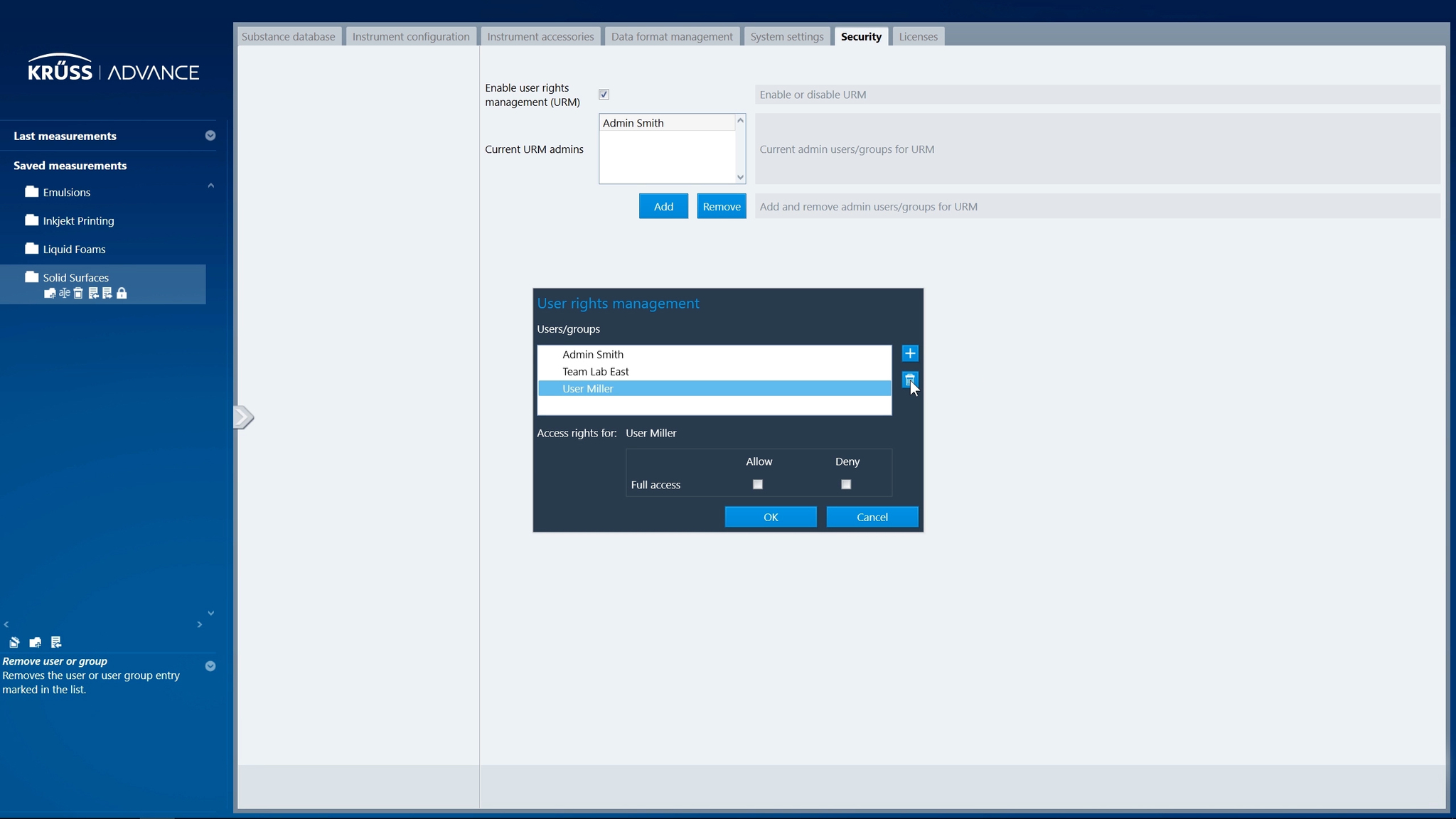 Easy and safe user rights management
The user rights management (URM) feature of ADVANCE helps you and your team to ensure both data security and a clear structure of stored results. An ADVANCE admin can allow – or deny – users or user groups the access to measurements and folders. To make teamwork easier, users can not only automatically access their own created data but also transfer their rights to other users – within the limits set by an ADVANCE admin. With the ADVANCE URM, you achieve the ideal balance between transparency and security.
ADVANCE at work
If you are already curious, see what happens when ADVANCE meets an instrument.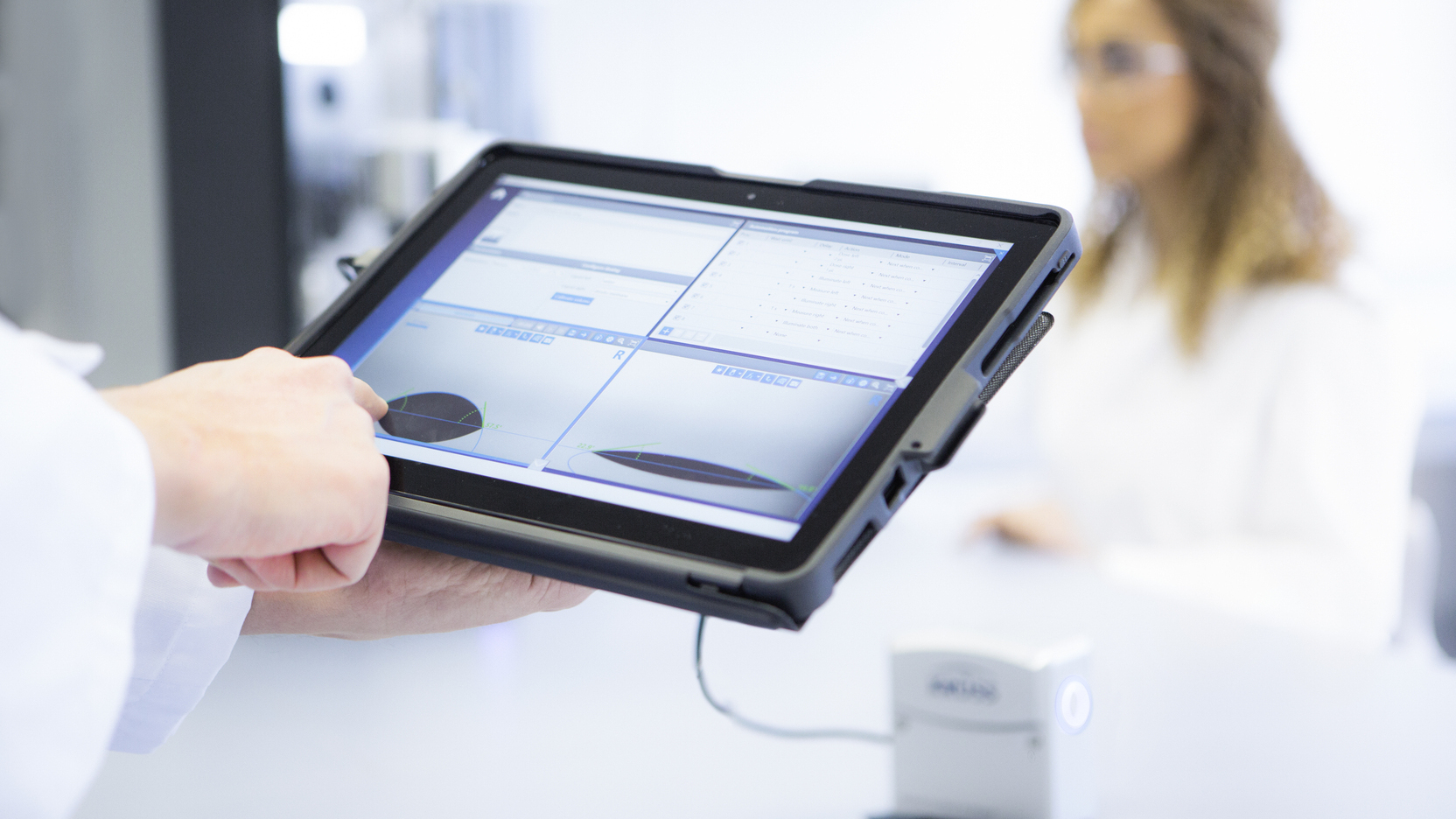 ADVANCE | Drop Shape
A drop can be very revealing. Lying on a coated or pretreated sample, it tells you everything about its wettability. A drop at the tip of a needle can tell you the surface or interfacial tension. If it rolls off at slight inclination, the surface has good self-cleaning properties. And when jetted by a print head, the dropꞌs shape and flying behavior is closely linked to the printing quality. Together with our instruments, ADVANCE makes drops hand over all this information.
Read and watch more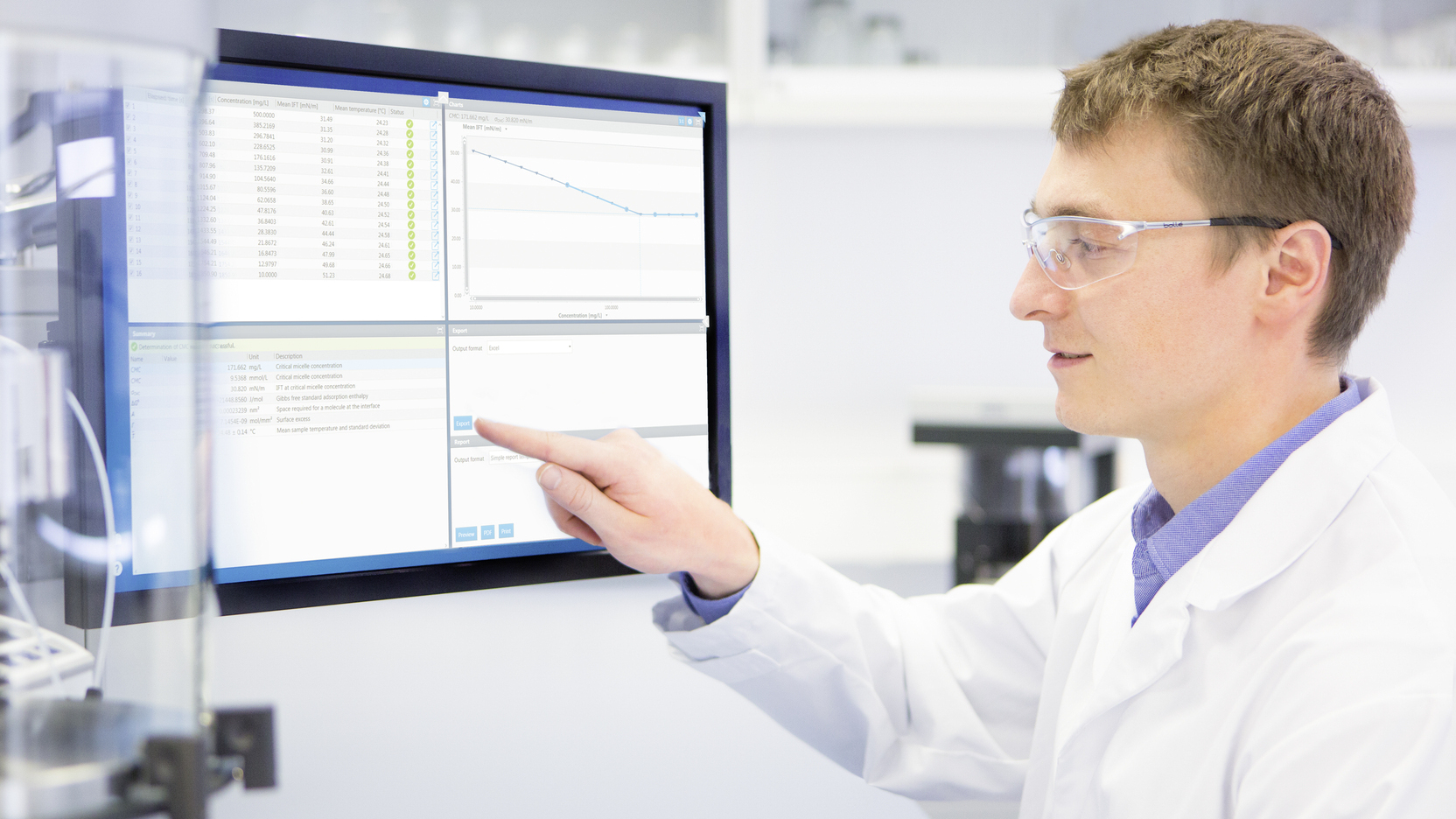 ADVANCE | Tensiometers
It's a long way from making a steel needle swim as a party trick to analyzing a surface scientifically. However, what ADVANCE has in common with this trick is the intuitive way of making the effects of surface tension visible. Thus, processes as complex as automated CMC determinations lead to useful knowledge for countless fields in which surface and interfacial tension as well as wettability play a key role.
More details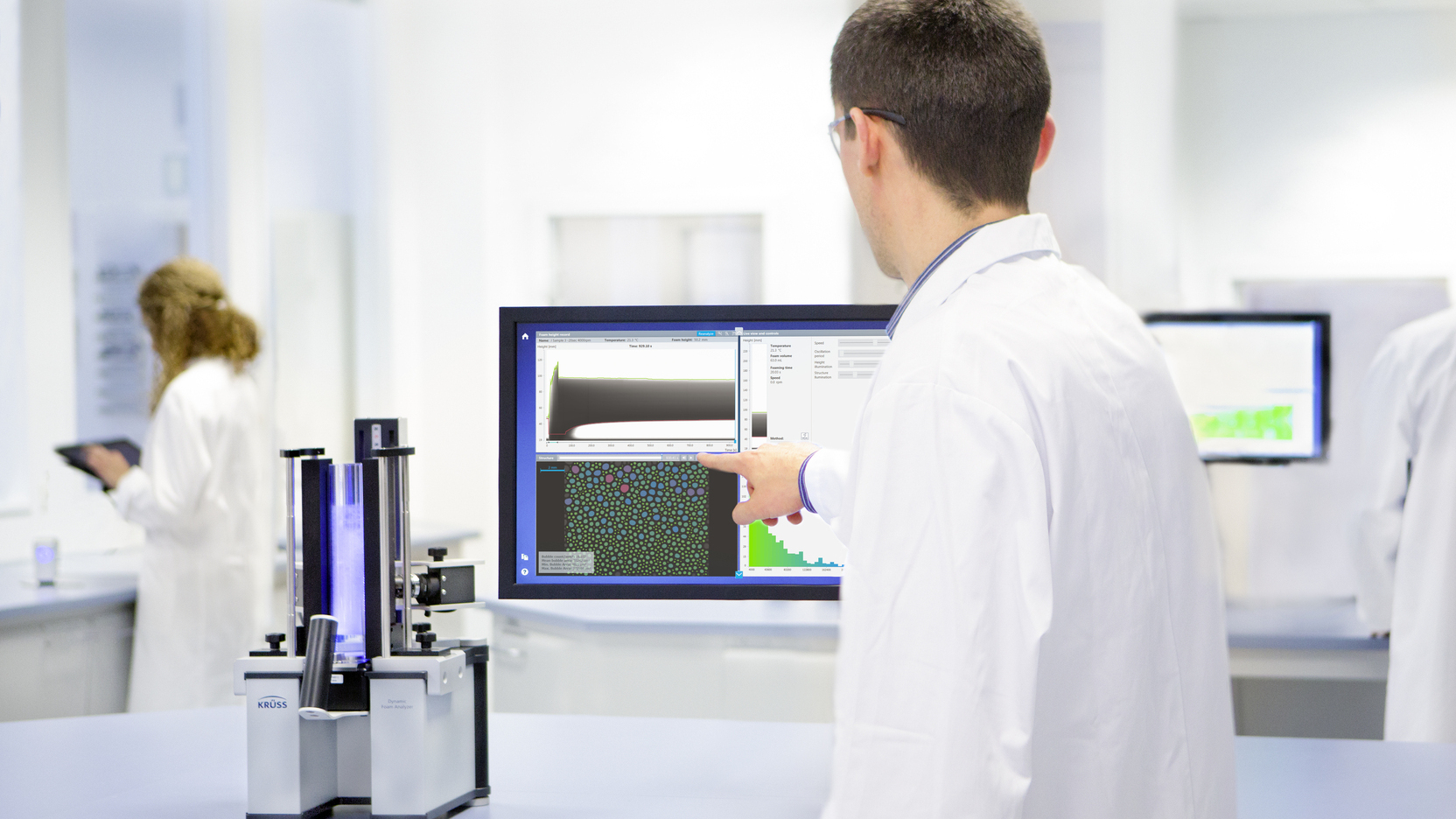 ADVANCE | Foam Analysis
Just like the speed at which an apple falls from a tree, the behavior of foam follows the laws of nature. But studying these laws, producing foam with certain properties, and controlling its quality requires reproducible foam analysis. With our instruments, ADVANCE takes a close look at all aspects of foam behavior and provides accurate results by controlling foam formation and communicating with precise sensors and cameras.
More information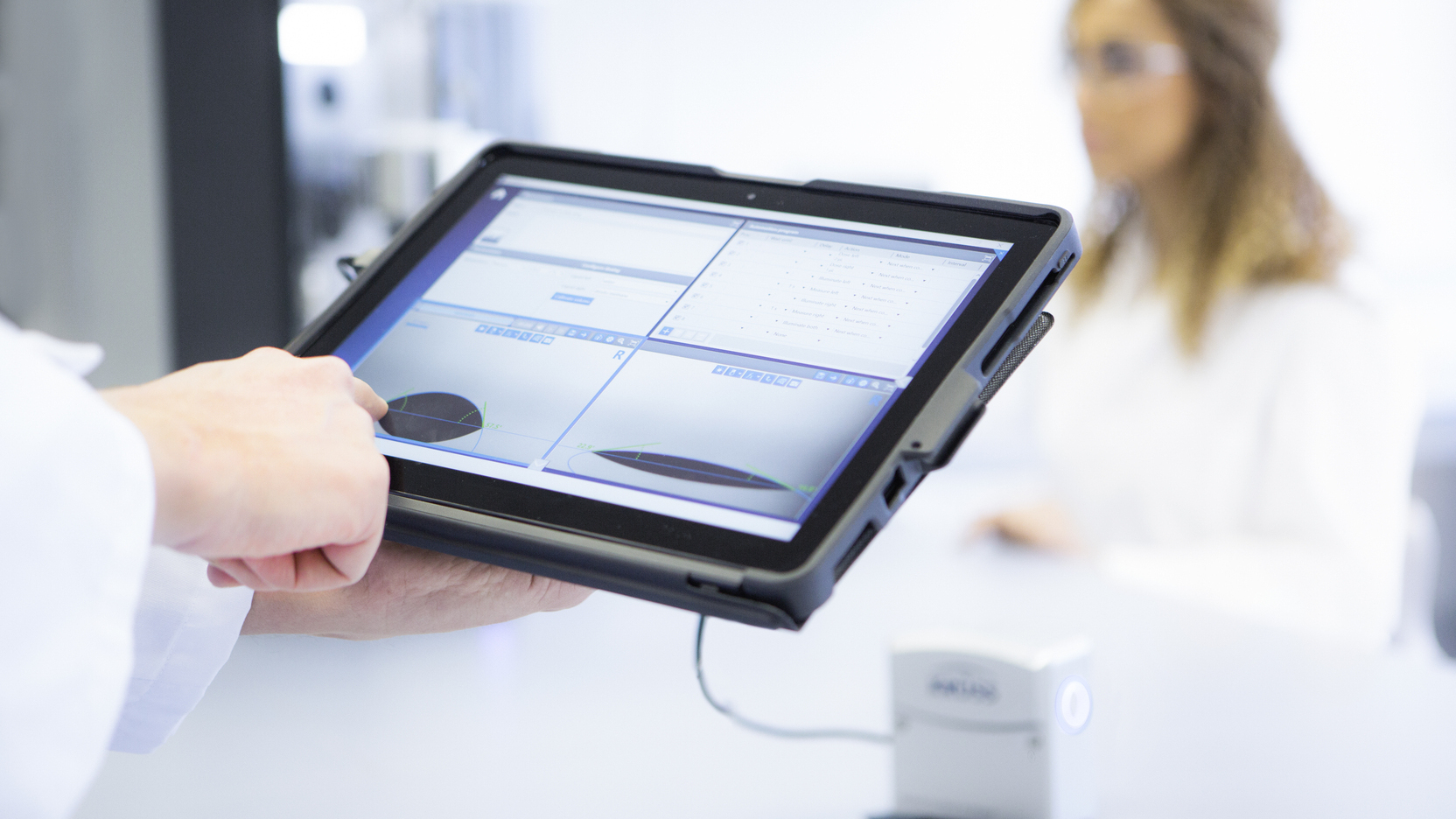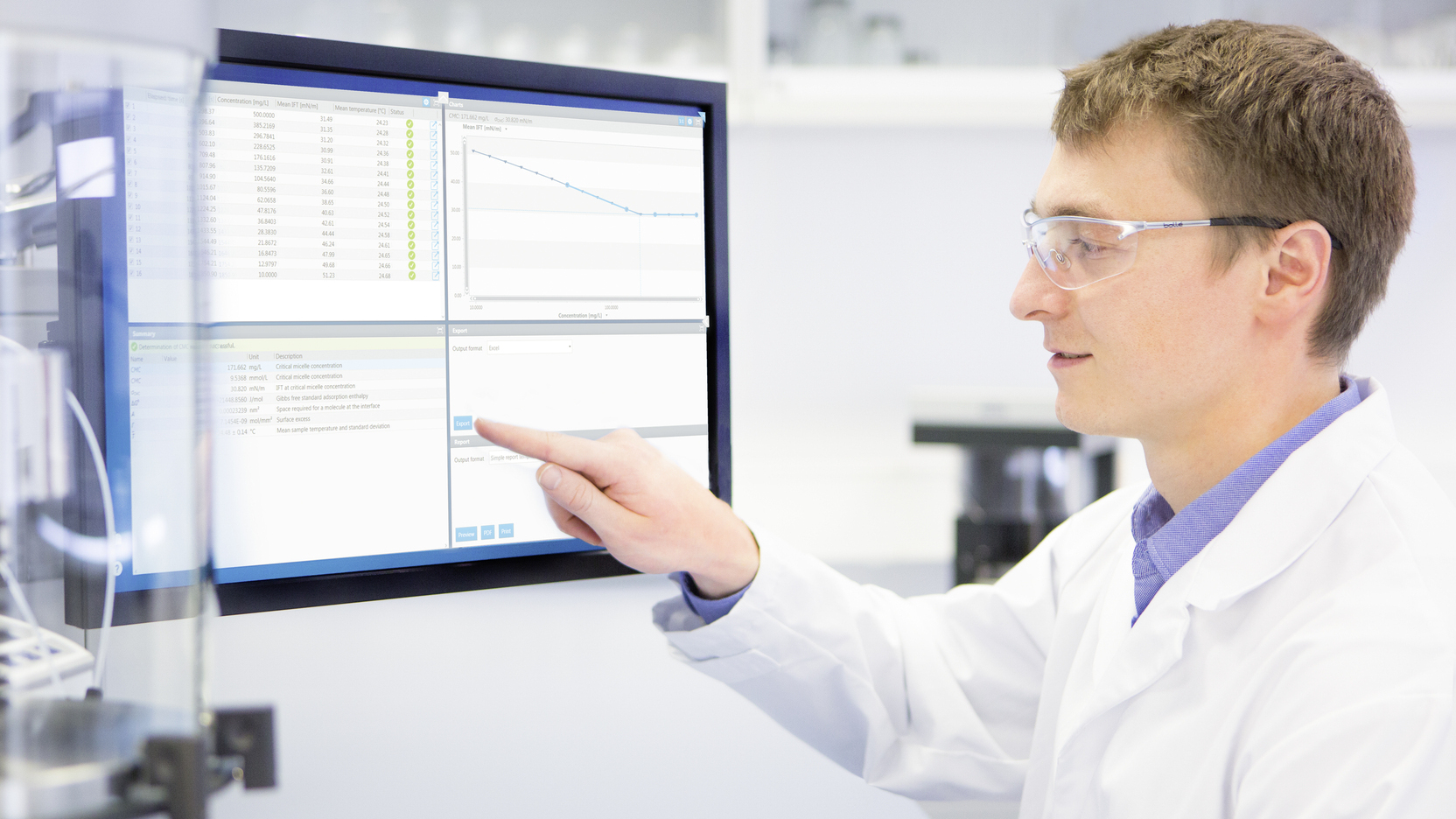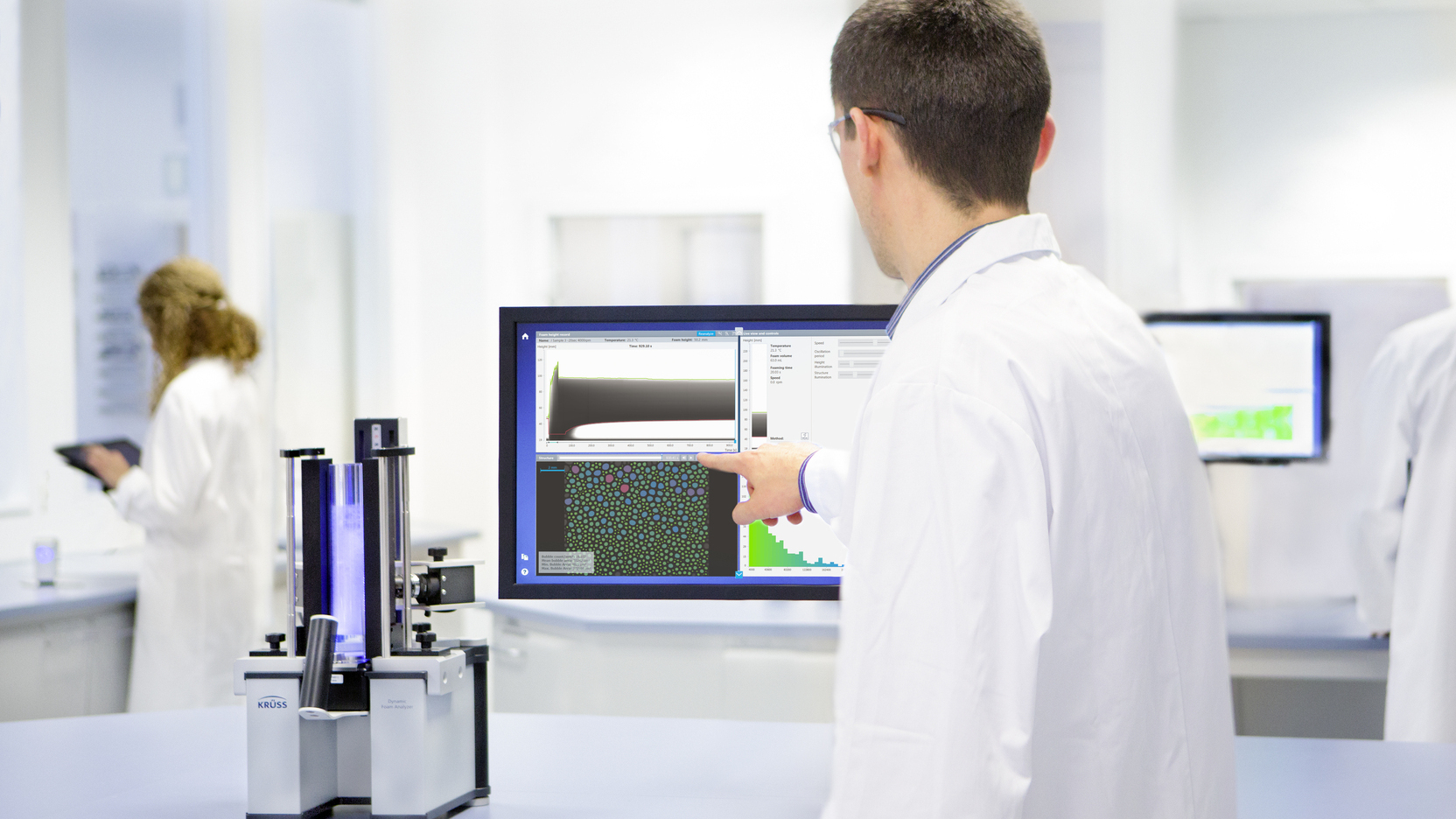 To the top