Drop Shape Analyzer
DSA25E
From one-click wettability measurement to analysis of solid-liquid adhesion
In its Expert configuration, the DSA25 Drop Shape Analyzer is designed for determining the wettability of solids by means of the contact angle as well as the surface tension of liquids such as coating substances or adhesives. Thanks to the combination of speed and versatile evaluation options, the analyses give quick feedback to pretreatment steps in quality control but also allow assessing the resulting adhesion.
Applications
Quality assurance of activation processes such as plasma treatment, flame treatment, or corona treatment

Checking wettability of plastics, glass, ceramics, wood, paper, or metal

Testing the effectiveness of hydrophobic coatings and other coatings

Analyzing coating liquids and adhesives and assessing their adhesion

Assessing long-term stability of coatings

Analyzing (super-) hydrophobic and self-cleaning surfaces

Wetting analysis at controlled temperature and/or humidity
Measuring methods
Contact angle of a drop on a solid surface

Contact angles of two drops dosed in parallel

Contact angle using a gas bubble beneath a solid surface in a liquid

Roll-off behavior and advancing/receding contact angle of a drop on a tilted surface

Surface free energy of a solid using contact angle data

Surface or interfacial tension using the curvature of a drop or bubble at the tip of a needle

Surface tension using the curvature of a perfectly symmetrical drop on a circular sample pedestal

Calculating adhesion-related scientific parameters for the interfacial contact

Calculating the polar and disperse part of the surface tension from contact angle and surface tension data

Contact angle at an immersed, cylindrical sample, usually a fiber

Carrying out a measurement up to 20 consecutive times and displaying the results together
Measuring results
Static contact angle

Advancing and receding contact angle

Contact angle using a bubble in a liquid

Roll-off angle

Surface free energy (SFE) according to the following models: Owens-Wendt-Rabel-Kaelble (OWRK), Fowkes, Wu, Zisman, Equation of State

Surface tension of a liquid and interfacial tension between two liquids

Work of adhesion, solid/liquid interfacial tension, spreading coefficient

Temperature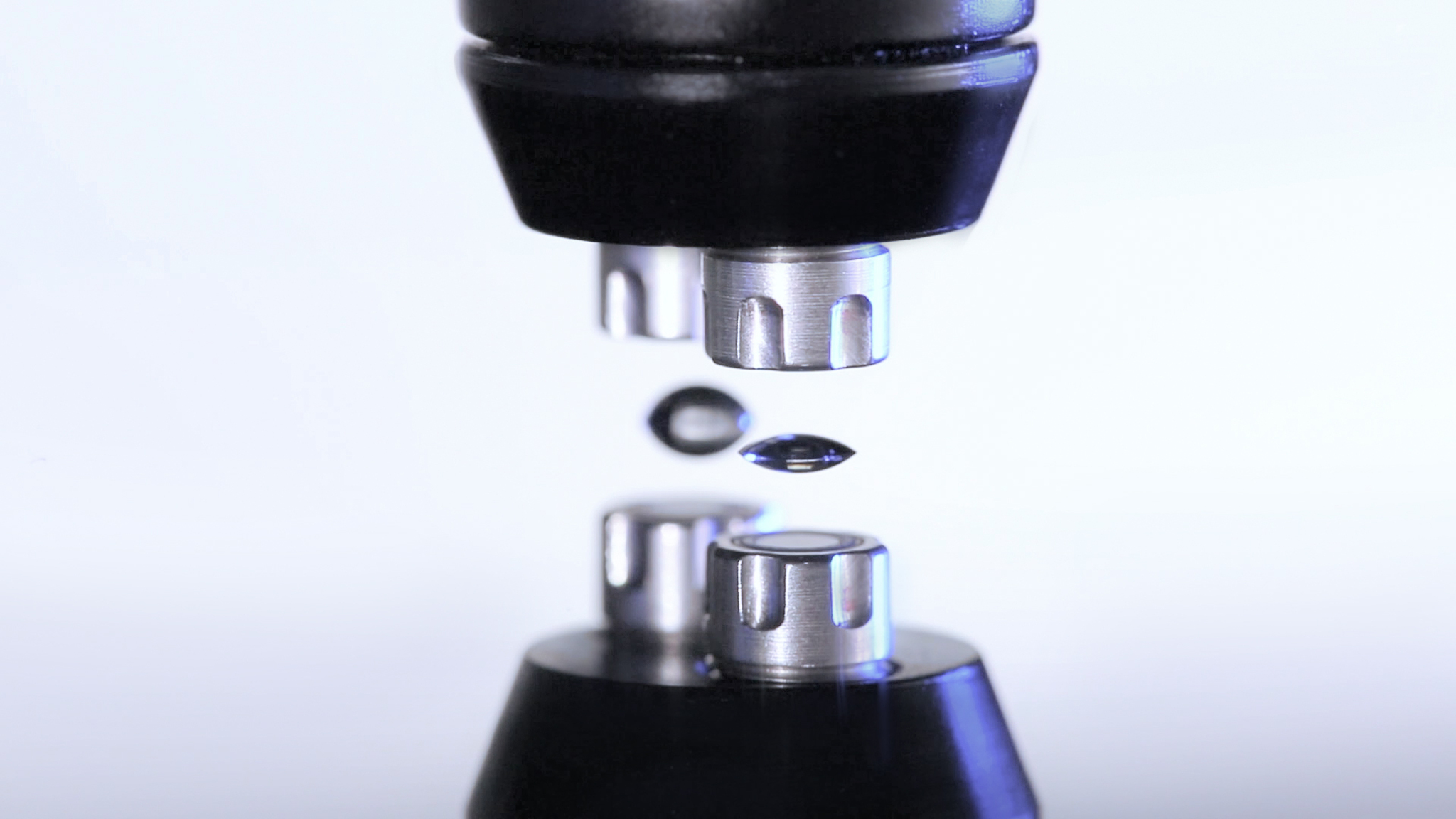 Liquid Needle dosing
Surface free energy in seconds
With the Liquid Needle, the contact angle measurement technology is perfectly prepared for quality assurance. Learn more about the ideas that enable the Liquid Needle to combine speed with scientific excellence.
The interaction between two software-controlled dosing units is the main advantage of the DSA25E. The Liquid Needle dosing technology performs rapid one-click measurements of the surface free energy (SFE) based on contact angles of two liquids. The additional syringe dosing unit can be used to add data for a third liquid to consolidate the SFE result or to measure the surface tension (SFT) of a liquid.
Reliable drop shape analysis thanks to high imaging quality
The DSA25E features a high-resolution camera and a quality zoom lens for accurate display of the drop with optimum size. The high image quality that this achieves leads to a precisely measured contact angle or SFT. Combined with the intelligent image evaluation algorithm of the ADVANCE software, drop shape analysis with the instrument provides exact results.
Maximum repeatability and comprehensive adhesion analysis
The ADVANCE software supports the Liquid Needle in order to carry out automated SFE measurements within a second. The easy-to-create automation programs can also be used to design a standard procedure for sample analysis to maximize repeatability of measurements. Optional software tools for data analysis combine SFE and SFT data in order to assess the adhesion and calculate other scientific parameters of the solid/liquid contact.
OPTIONAL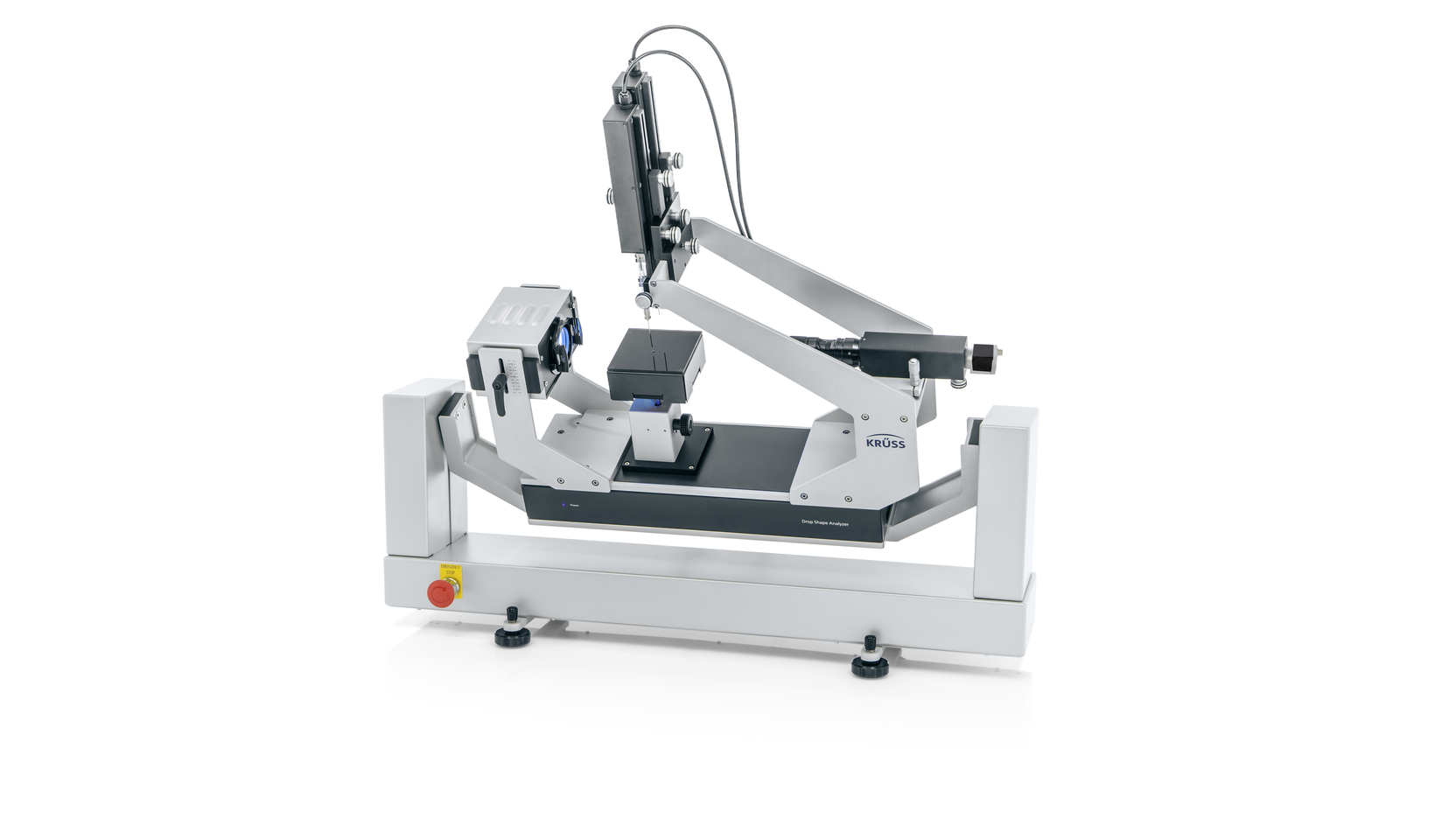 Tilting TaBLE
Characterize low wettability
The tilting table for the DSA25: Analyze (super-) hydrophobic and self-cleaning surfaces automatically by means of the contact angle and roll-off angle.
YOUR INSTRUMENT'S BRAIN

Intuitive software with a workflow-oriented user interface

Swift and repeatable analyses thanks to measurement templates and powerful automation functions

Superior algorithms for image analyses provide for precise results even with difficult images

A wide range of evaluation methods makes ADVANCE a reliable scientific tool
To the top